Introduction
We make customer service social, uncomplicated, fun and engaging
Dixa is "customer friendship software" and we believe that the future of customer service is built by a strong bond between companies and their customers – much like the connection between friends.
Dixa is a customer service platform that embraces phone, email and live chat. Powered by the seamless combination of human and artificial intelligence, customer service can finally be friendly, proactive, instant and channel neutral.
General Principles
Accessibility
Things should be designed to be usable, without modification, by as many people as possible. Make things usable by everyone.
Affordance
The physical characteristics of a thing influence its function and use.
Crowd Intelligence
An emergent intelligence arising from the unwitting collaboration of many people.
---
Development Cycle
The stages of product creation: analysis, design, development, and testing.
Feature Creep
A continous expansion or addition of new product features. Ensure features are linked to customer needs, because adding features adds complexity, and complexity is expensive.
Design Principles
Aligment
The placement of elements such that edges line up along common rows or columns, or their bodies along a common center.
Back-of-the-Dresser
All parts of design should be held to the same standard of quality.
Aesthetic-Usability
Attractive design is perceived to be easier to use than less attractive one.
---
Consistency
Usability and learnability improve when similar things have similar meanings and functions.
Five Hat Rack
A metaphor representing the five ways information can be organized: by category, time, location, alphabet, and continuum.
Flexibility Trade-Offs
As the flexibility of a design increases, the usability and performance of design decreases.
---
Hick's Law
The time it takes to make a decision increases with the number of options.
Hierarchy
Hierarchies are the simplest way to visualize and understand complex information.
Hierarchy of Needs
The user-centered goals that a design must satisfy in order to achive optimal success: functionality, reliability, usability, proficiency, and creativity.
---
Iconic representation
The use of pictorial images to improve rcognition and recall.
Interface Effects
Things that trigger conflicting thought processes reduce thinking efficiency.
KISS
Keep it simple stupid. Simple design work better and are more reliable.
---
Layering
Presenting information in stacked layers to manage complexity and foster insights.
Legibility
The visual clarity of text, generally based on size, typeface, contrast, line height, and spacing. Make line lengths 10-12 words per line, or 35-55 characters per line.
Modularity
Managing system complexity by dividing large system into smaller, self-contained systems.
---
Scaling Fallacy
Design that work at one scale often do not work at smaller or larger scales.
Visibility
Things in clear view are more likely to be used than things not in clear view.
Functionality Principles
Confirmation
A technique for preventing errors by requiring verification before actions are performed.
Constraint
Limiting the actions that can be performed to simplify use and prevent errors.
Control
The level of user control should be related to the proficiency and experience of the user.
---
Errors
An action or a mission of an action yielding an unintended result.
Feedback Loop
A cycle in which output feeds back into a system as input, changing subsequent output.
Logo
The Dixa marks include the Dixa name and logo, and any word, phrase, image, or other designation that identifies the source or origin of any of Dixa's products. Please don't modify the marks or use them in a confusing way, including suggesting sponsorship or endorsement by Dixa, or in a way that confuses Dixa with another brand (including your own).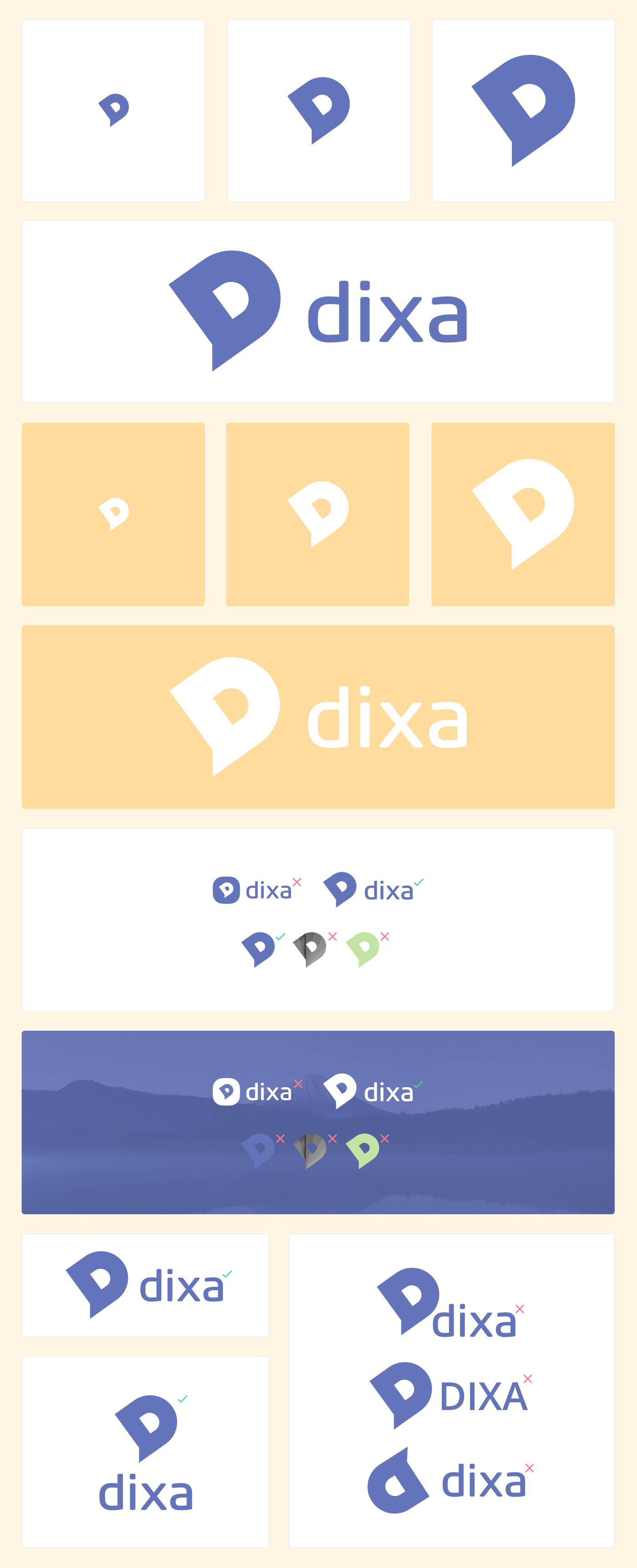 The colored version of the Dixa logo can ONLY be used on a white background. If you are using the Dixa logo on any other background color, use either the black or white monochrome logo. Do not place the Dixa logo over background colors that clash. If in doubt, use monochrome! We politely ask that you don't:
‍Use any logos or similar imagery to represent Dixa other than what is found in our Press Kit
Rotate the 'D' mark or alter its positioning in relation to the Dixa name
Change the colors on the D logo
Overprint or obstruct any part of the logo
Add special effects to the logo
‍Use old versions or any other marks or logos to represent our brand
Naming & Merchandise
You're entitled to say that your website or application is integrated with Dixa (we like people integrating with Dixa!), but please don't use the Dixa logo as part of the name of your company, application, product, or service, or in any logo you create.
Do not register a domain containing "dixa" (including misspellings, transliterations or similar variations) if it could make people think that Dixa provides or officially supports anything offered from that domain. That would be very uncool. Do not apply for a trademark with a name including "Dixa", the Dixa logo, transliterations or similar variations thereof.
Please note that we generally don't permit use of our marks on merchandise. Do not use the Dixa name, the Dixa logo, or any other confusingly similar marks on any apparel, product, toy, or any other merchandise.
By using the Dixa marks you agree to follow these guidelines as well as our Terms of Service and all our rules and policies. Dixa reserves the right to cancel, modify, or change the permission in these guidelines at any time at its sole discretion. For further information about use of the Dixa name and trademarks, please contact hello@dixa.com.
Color
Dixa is awesome
Dixa is awesome
Dixa is awesome
Dixa is awesome
Dixa is awesome
Dixa is awesome
Typography
Open Sans is a humanist sans serif typeface designed by Steve Matteson, Type Director of Ascender Corp. This version contains the complete 897 character set, which includes the standard ISO Latin 1, Latin CE, Greek and Cyrillic character sets. Open Sans was designed with an upright stress, open forms and a neutral, yet friendly appearance. It was optimized for print, web, and mobile interfaces, and has excellent legibility characteristics in its letterforms.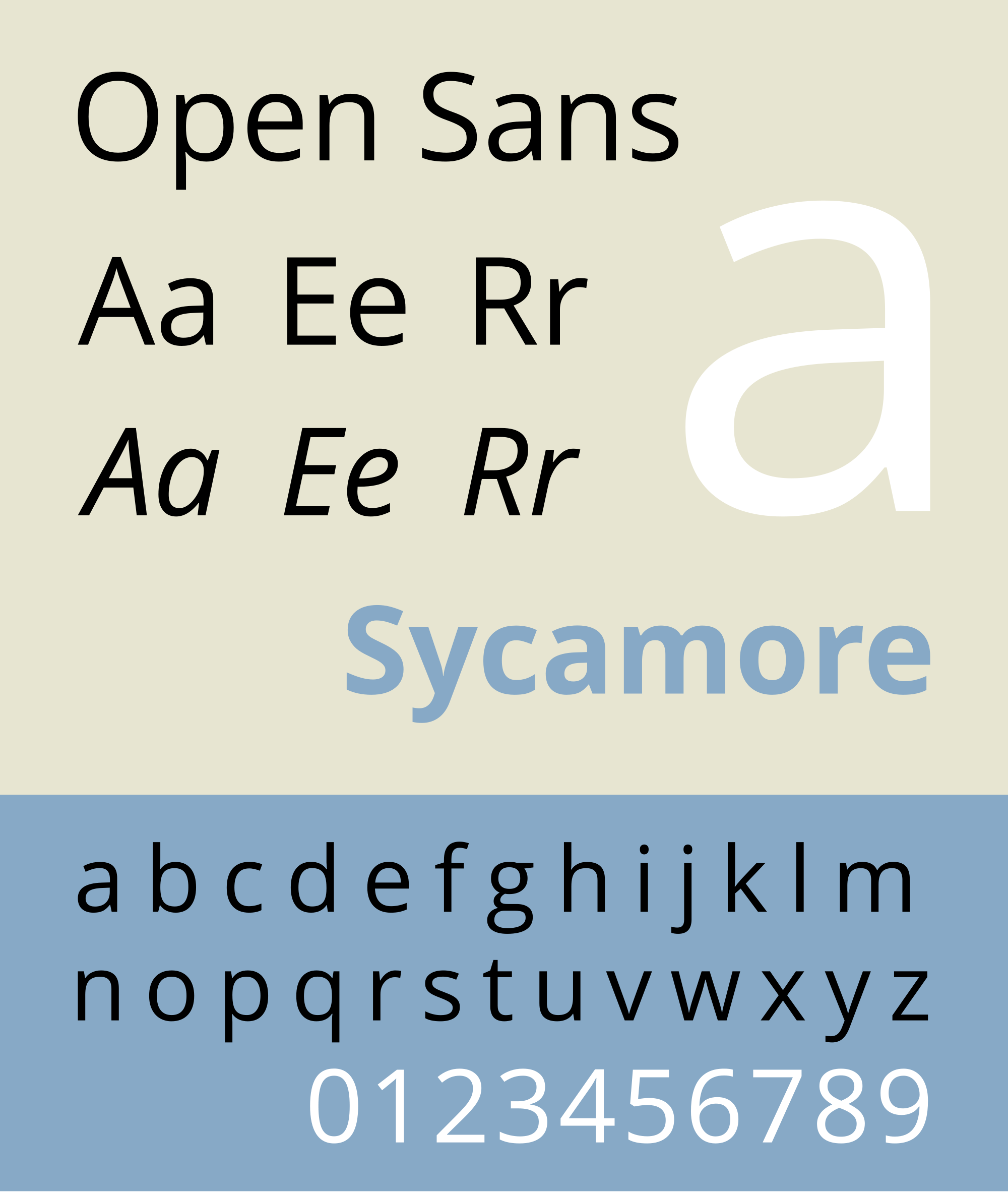 Árvíztűrő tükörfúrógép.
Pójdź w loch zbić małżeńską gęś futryn.
Victor jagt zwölf Boxkämpfer quer über den großen Sylter Deich.
Quizdeltagerne spiste jordbær med fløde, mens cirkusklovnen Walther spillede på xylofon.